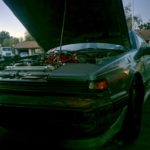 Well, more on the project. I am able to find a cheaper insurance so I can now register both my daily z and my s12 again. So I can now finish with the progressive testing my s12 and see how well she will handle driving it around.
And when 12/4/2016 comes around I will most likely be driving in the Import Face Off drifting again like old times.
I would like to start a web vblog but if I don't feel motivated enough, if I had more subscribers I might start a weekly vblog when I work on my car projects. I just need to know who all follows this project and my other projects.