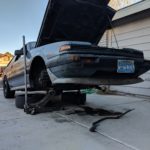 The outer right tie rod is toast, and an junk yard q45 left caliper just blew it's last seal.
So far this is starting to look good as I am also installing the s13 hardware that I have been lacking todo for a while now.
Next up will be a self alignment from where she stands and refresh the oil pan gasket if I could at this angle with out pulling the motor.